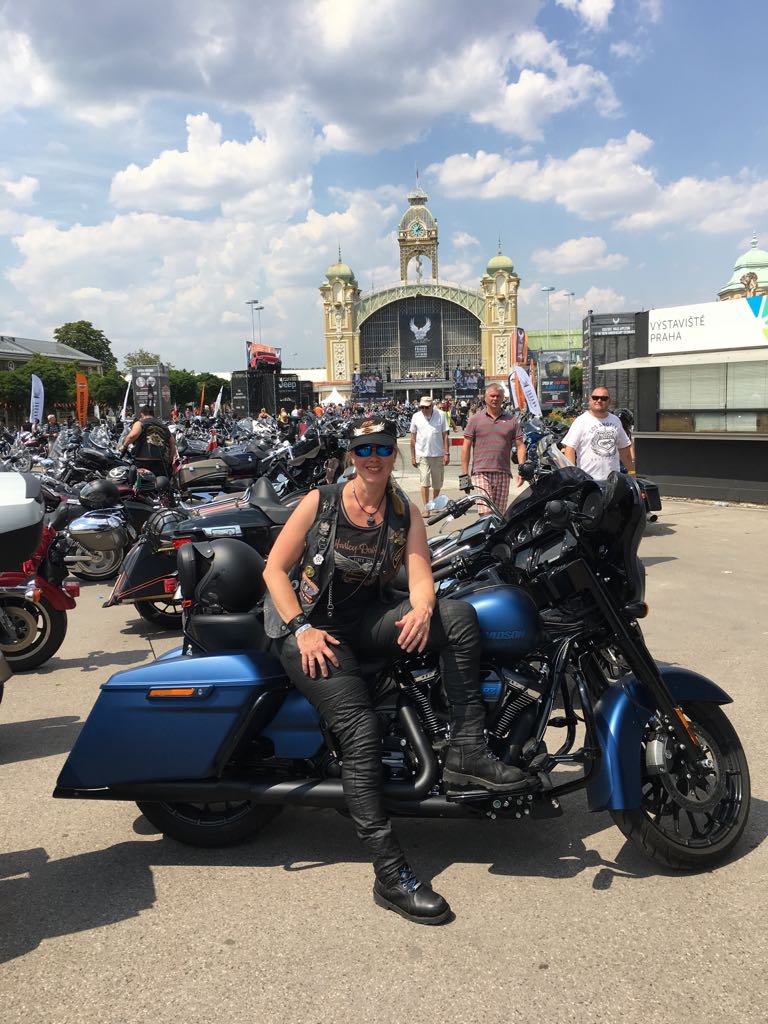 Harley-Davidson riders in Prague share a parade, stories, at a rally that fuels their passion
Uit de Milwaukee Sentinel van 9-7-2018:
Tens of thousands of Harley riders from as far away as India and Australia were in the picturesque Czech capital in the weekend of 5, 6 , 7 and 8th July for the European version of the Labor Day rally Harley has planned for Milwaukee.
During the parade, waves of riders — 4,000 at a time — rode through the central part of Prague, squeezing together at times to navigate the narrow streets shared by electric trams, automobiles, delivery trucks and thousands of cheering spectators.
Flags from many countries, tethered to the back of bikes, flapped in the breeze. And just like a motorcycle parade in Milwaukee, there were colorful characters such as Santa Claus bikers and big guys wearing fur hats and chomping on cigars.
Het interview met ons Chapter lid Myrtha Smoorenburg is daarin ook te lezen:
"There weren't many female riders at the rally Saturday, but those who did come said the sisterhood remained strong and they were becoming steadfast friends.

Myrtha Smoorenburg, from the Netherlands, arrived on a 2018 Harley-Davidson Street Glide Special.

The denim-blue bike is a limited-edition model, No. 85 of 1,900, made before Harley capped the production.

While she was in Prague, Smoorenburg had her leather vest autographed by Bill and Karen Davidson, the great-grandson and great-granddaughter of company co-founder William A. Davidson.

On the back of her vest, there's also a message for men who might question her ability to handle a big motorcycle.

It says, simply enough: "You've just been passed by a girl."

Smoorenburg has been riding motorcycles on and off for more than 20 years. She bought her first Harley-Davidson, a Fat Bob, in 2014."
ACTIVITEITEN

KALENDER
HOGSTOCK Vrijwilligers Thank You! Party-26 oktober a.s.
Dit bijzondere jaar geen gewone Chapter Feestavond maar een speciaal feest om iedereen te bedanken die heeft mee geholpen om de HOGSTOCK Benelux H.O.G Rally 2019 tot een groot succes te maken! Alle vrijwilligers,…
Lees meer